Course Overview
The SECAD Sustainable Communities Training Programme has been designed and developed by SECAD Partnership CLG in conjunction with delivery partners VOICE (in West Cork) and Change by Degrees (in South Cork).
Developed with community members in mind, this training programme seeks to enable communities to build Community Development Teams which will take part in training, develop Community-Led Sustainability Plans, including detailed plans for Legacy Projects for their own communities. The programme will be run over SECAD's two operational areas in South & West Cork and is funded by the LEADER 2014-2020 Programme. Due to the current restrictions, this course will be delivered through blended learning.
The core programme will run until June 2022, beginning in September with a series of weekly workshops that will cover a wide range of important sustainability topics. The community groups involved will be supported throughout as they build their sustainability plans, before finally presenting their work as part of a showcase in autumn 2022.
Who is this programme for?
We are looking for the following people to take part in this programme:
Are you a community volunteer involved in groups in your area?
Or a community member with skills, interests and ideas for your community who has not had the opportunity to be involved to date?
Are you a business owner or someone who would like the opportunity to work remotely or set up a business in your local area?
Could your voice be one of a diverse range of voices in your community to develop a plan for your community's future?
If so, then this programme will give you the opportunity to link with your neighbouring community members to learn, share ideas and prioritise plans to develop a strong sustainable community integrating social, economic and environmental strands.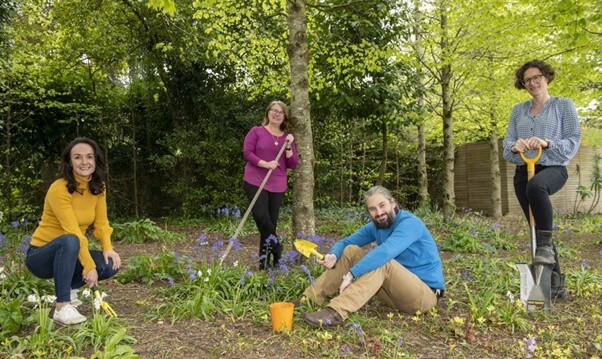 Madeleine Murray from Change by Degrees (trainers for South Cork course) Nuala O'Connell from SECAD and Tad Kirakowski and Abi O'Callaghan-Platt from VOICE (trainers for West Cork course)
The Training Process
Each team will work with the expert trainers on specific areas of concern, such as developing detailed plans for legacy projects and carrying out a skills audit to address skills gaps, while implementing recruitment policies to address these gaps. The community groups will also receive project management skills training adopted from private sector models.
West Cork
Sustainable Communities Training Programme will be led by VOICE who will bring the following expert partners on board to help deliver a truly bespoke programme for each community that addresses both the latest research as well as practitioners and experience:
Environmental Research Institute
Cork Environmental Forum
Local Authority Waters Programme
Tipperary Energy Agency
StreamScapes
Farming for Nature
Simon Cork and FoodCloud
Design Republic
South Cork
The Sustainable Communities Training Programme will be delivered by a consortium with a wealth of sustainability expertise led by Dr Tara Shine and Madeleine Murray from Change by Degrees and including experts from the MaREI Centre, UCC and Rosemarie MacSweeney, a project manager specialising in Circularity, Sustainability, Built Environment.
Change by Degrees inspires and partners with organisations to help them design sustainability solutions that deliver real, measurable results.
They provide inspiration for teams through motivational talks and mentoring as well as leadership masterclasses.
They shape strategies and action plans that engage employees and volunteers and build their capability and skills.
They design employee and community engagement campaigns that are fun and impactful and provide specialised sustainability communications to create messages and content that connect.
How can I get involved?
This free training programme will run from May 2021 to September 2022 (with a break across July and August):
Step one – Launch of the Programme
Attend the online launch event in your area on 24th May or 26th May, where we will provide an overview of what the programme will involve and introduce you to the trainers for your area.
In case you missed these webinars, they are available for you to watch below, all you need to do is register or login to the system:
Step two – Application Process
May / June 2021
If your community would like to take part in the full SECAD Sustainable Communities Training Programme, please complete this brief application which you can download, complete and submit it to noconnell@secad.ie by 11th June 2021. 
If you have any queries, you can contact Nuala: noconnell@secad.ie or 087 9672515 / 021 4613432
Sixteen communities in South and West Cork will be selected to participate in the Sustainable Communities Training Programme.
Step three – Training Programme & Development of Community Plans
September 2021 to June 2022
Bespoke Training Programme to build Community Development Teams and develop Community-Led Sustainability Plans rolled out in sixteen communities
Project management training to help sixteen communities implement their Community-Led Sustainability Plans
Eligibility Criteria
Communities that wish to participate in this training programme must satisfy the following criteria
For More Information
For more information on SECAD's Sustainable Communities Training Programme please contact Nuala